Albert Einstein supposedly said something about humans surviving only 4 years without bees!  The gardens here at Thurloe Street Dental offer an oasis for wildlife in SW7.      We frequently enjoy a variety of insects and birds in our  front garden and our beautiful 'secret garden' at the rear.  An array of bird feeders, planting and water baths are tended to all throughout the year, encouraging fauna and flora to flourish.
On my commute to and from work, I pass East Putney tube station and have always admired the planters on their platforms.    I then  noticed they were eco friendly planters placed by the   Bee Friendly Trust offering a 'beespoke hotel for bees' right there on the tube platform!    As soon as I arrived at work I emailed the trust to see if they would work with us to improve our planting and therefore attract more bees.   
Honey bees can fly up to three miles from the hive when out foraging for pollen and nectar, but in areas that are densely populated or over-farmed they sometimes struggle to find enough food.  We want to be a canteen for local bees!
So, this week the lovely Emma from the Bee Friendly Trust came to meet us at the practice and fell in love with our secret garden.  Whilst she felt we were doing well with our planting to the rear, she was excited about our more formal front garden as it had more scope to improve its appeal to bees.        She hopes to place one of their eco-friendly planters made from British pine railway sleepers; using native heritage varieties of fruit tree; with a wildlife garden complete with a bespoke bee hotel.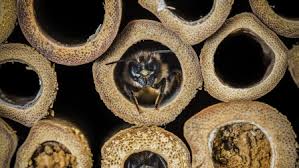 Watch this space for the progress of the Bees @ Thurloe Street Dental project over the weeks to come.
If you would like more information on the magnificent work the Bee Friendly Trust are doing in our great city, please visit them at Bee Friendly Trust http://www.beefriendlytrust.org
Author: Trees, August 2018