Implant Dentist in South Kensington, London
Implants are a permanent replacement for missing teeth. They are natural in appearance and feel. They will restore your smile to its natural beauty.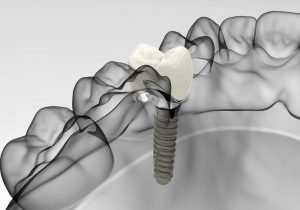 At Thurloe Street Dental and Implant Centre we have used dental implants to replace lost teeth with great success. We are advanced practitioners of this dental technique and can replace single or multiple lost teeth in one sitting.
A dental implant is a titanium screw which is embedded into the jaw bone to act as a new 'root' for a replacement tooth or crown. The crown fills the gap and replenishes your smile.
Titanium is used for the implant as it is proven to bond well with the jaw bone by a process known as Osseointegration. Over time, it becomes fully incorporated into the mouth's system.
Dental implants are the preferred option for replacing missing teeth because they are fixed in place. They can be looked after in the same way as natural teeth and are built to last.
Dental Implants FAQs
You may have lost a tooth due to decay or trauma, or have had a tooth extraction. Whatever the reason, if you would like to fill a gap, our dentists can start the dental implant process almost immediately to restore your smile.
Why should I replace a missing tooth?
A gap in your teeth not only poses a cosmetic problem, it also poses problems to your long-term dental health. A missing tooth can ultimately lead to the loss of additional teeth. Ultimately, this may lead to a permanent change in your facial appearance. Missing teeth can have a negative impact on your quality of life as you may not be able to enjoy some of your favourite foods. You may feel self-conscious if the gaps are visible when you smile, making you smile or laugh less.
If you don't replace missing teeth, the bone around the missing tooth's root begins to erode. Adjacent teeth can collapse into the gap, while teeth in the opposing jaw can grow into the gap. In the long term, missing teeth can cause the bone in the jaw to be resorbed. It can also gradually become weaker and break down. This, in turn, weakens the adjacent teeth which may become loose and eventually fall out. Therefore, the loss of even a single tooth can start a chain reaction. If left untreated can lead to permanent and irreversible damage.
What is a dental implant?
Dental implants are the closest replacements to your natural teeth. They are firmly anchored into your jawbone and serve as replacement for missing teeth. Dental implants are made of biocompatible material. They fuse to your jaw bone and mimic your missing root. The bone fuses to the implant as it thinks it is a real root. This helps restore the bone levels in your gums. It also helps in maintaining strong and healthy bone level which is the foundation for your teeth.
After the dental implant has fused into the gum, the dental surgeon can fix a natural looking crown or tooth to the implant. With proper diagnosis and planning, implants have a high success rate. It is no wonder that each year many patients choose to have implants placed. There is a growing trend towards implants considering the high success rate.
What are dental implants made of?
Dental implants we use at  Thurloe Street Dental and Implant Centre are made of high grade pure titanium. This material is highly biocompatible with the body's living tissue. Any adverse reactions of titanium with the human tissue are extremely rare.
We use a variety of high quality implant systems depending on your clinical situation. These include Straumann, Osteocare, Nobel Biocare and Megagen implants.
Are dentures or implants better for me?
Although dentures are a cheaper option, today, more and more people are choosing dental implants over dentures to replace missing teeth. Patients who opt for dental implants, enjoy a more comfortable and enhanced chewing ability. Dental implants are attached to the jawbone. Dentures on the other hand can slip, come loose, move around in the mouth, often causing discomfort. Dental implants are permanent solutions, requiring no glue or adhesives.
Research has proven implants restore and preserve the structure of the bone and the remaining teeth, maintaining your facial structure and keeping you looking young, whereas wearing dentures can lead to the deterioration of the jaw bone, which can lead to aging of the facial structure. Dental implants therefore, not only offer better cosmetic and comfort related benefits, they also allow for better overall dental health.
Am I a candidate for dental implants?
Regardless of the reason of tooth loss, you can have dental implants placed if the jaw is not growing anymore. Also, there has to be enough healthy bone in the jaw to allow for the secure and stable placement of the dental implant. Dental implants are not suitable for patients who have a history of heavy alcohol consumption, smoking, or other medical related conditions such as diabetes or heavy clenching and grinding (bruxism). These may interfere with the integration of the implant and its long tern success.
What is the procedure involving dental implants?
The dentist will see you for a thorough consultation to evaluate your suitability for dental implants. They will need to ensure your jaw bone can hold the titanium implant. We can do this through a series of dental x-rays. In some cases you may be referred for a CT scan. A CT Scan, unlike an x ray, is a 3D image showing the density of the bone.
If the dentist refers you for a CT Scan, you will need a further consultation to discuss the results and findings of the scan. After this, the dental surgeon plans the placement of the implant if the bone levels are good.
During the implant placement appointment, the dental surgeon will place the implant  into the jaw bone and leave it to heal. During this time, the dentist will provide you with a temporary crown to fill the gap. Once the site has healed, which is usually in 6 months, the dental surgeon will place a permanent crown to permanently fill the gap in your teeth.
Does dental implant treatment hurt?
Dental implant placement is relatively pain free and the procedure usually takes place under local anaesthesia. Our implant dentist is expert with a caring and gentle touch. Your comfort is always a top priority at Thurloe Street Dental and Implant Centre.
We offer dental implant placement under intravenous sedation for those patients who are anxious of dental treatment. Our dentist will discuss this option at your implant consultation.
We offer intravenous sedation for anxious patients at an additional cost
How long does dental implant treatment take?
Usually the entire treatment including diagnosis and planning takes 6 to 7 months. It may take longer if you need any sinus lift or bone grafts. Implants need careful planning and execution and to deliver precise treatment with long lasting results. Our dentists use the latest technologies such as guided surgery and piezo surgery. The implant takes around 6 months to sufficiently fuse with the bone. During this time, you will have a temporary tooth to fill the gap.
After the implant has sufficiently integrated with the bone, the dental surgeon removes the temporary and replaces it with a permanent crown.
Will I be able to feel the implant?
Titanium implants become a part of you as the material is fully biocompatible and fully integrates with the human tissue. Consequently, you cannot feel a dental implant.
How long do implants last?
Implants usually last a lifetime. However, they need dedicated care and regular dental visits and cleanings to prolong their longevity. The longevity of the dental implant primarily depends on how well you care for your teeth and your implant. Statistically, likelihood of an implant still being present after 10 years is 90%.
What are the complications and risks involved in implant treatment?
With careful preparation, our dentists minimise the risks of any potential risks or complications during and post procedure. However, implant placement is a surgical procedure and there is always a risk of swelling and bruising. Usually any swelling, bruising or mild pain which may occur will often disappear after a few days with the help of anti inflammatories and pain killers. We will provide these in your post procedure care pack.
If you have poor oral hygiene, if you smoke, have periodontal disease or other medical conditions such as diabetes it may not be advisable to have dental implant treatment. Depending on their severity, our dentists might not recommend dental implants. However, our dental surgeon will assess the severity and inform you if recommends dental implants.
How much do implants cost?
The cost of implant treatment will vary from person to person depending on whether you need a sinus lift or bone graft to strengthen the bone. The price of an implant inclusive of a ceramic crown is £2900. There is a discount for additional implants if needed.
Why choose Thurloe Street Dental and Implant for my implant treatment?
Thurloe Street Dental and Implant Centre is a well-established, multi-disciplinary clinical centre located in the heart of South Kensington. Our practitioners have undertaken extensive training and invested in the best technology. Consequently, our dental practitioners take pride in delivering the very best results.
Please click here or call 020 7584 5551 to book your consultation with our implant dentist now.