We know it can be a challenge when selecting the right clinic and or clinician for your facial aesthetic treatments. You will inevitably have many questions prior to and or during your treatment, we hope to answer them all and maybe a few more in this FAQ section.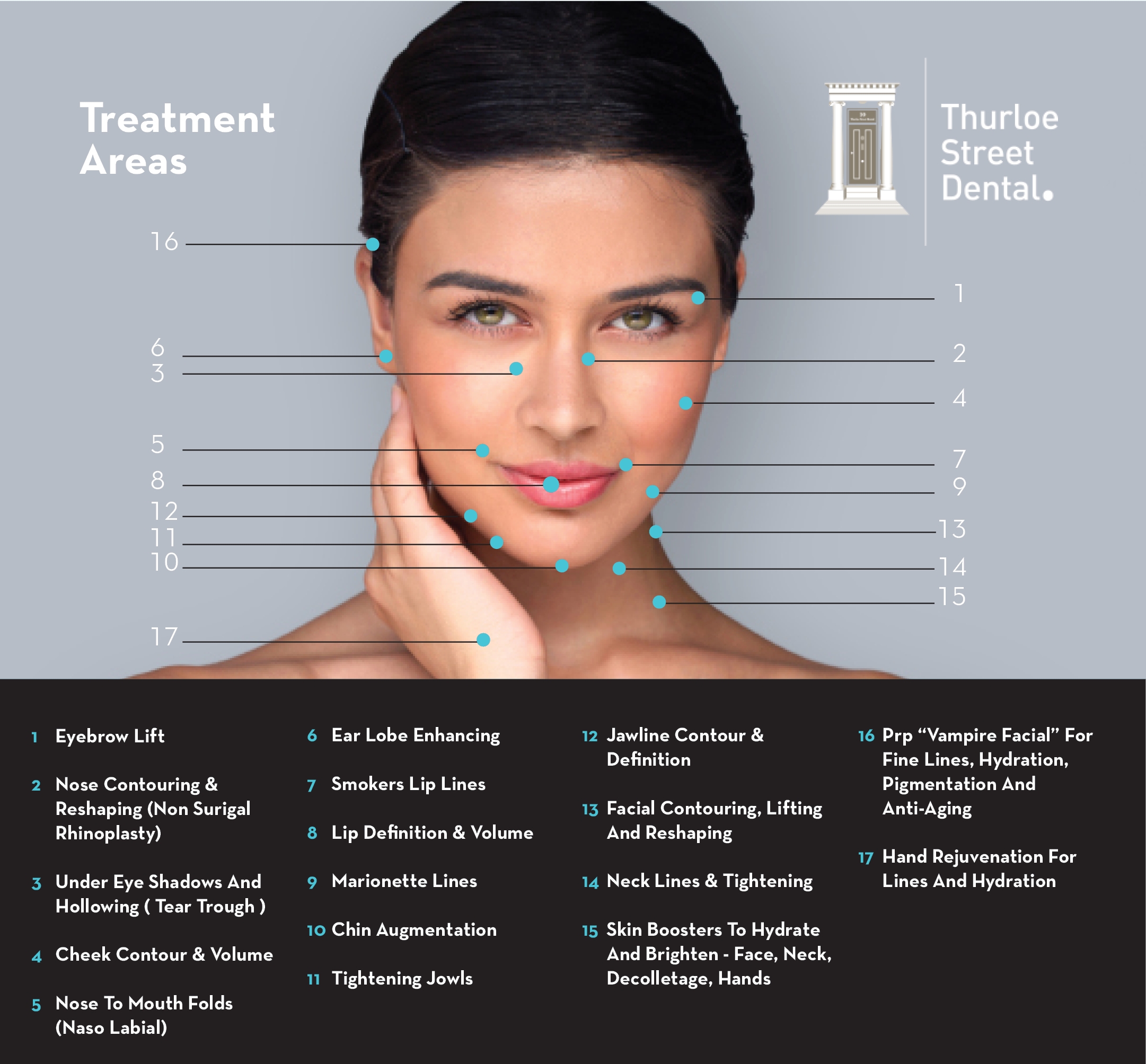 What type of clinic are we?
Thurloe Street Dental is multi-disciplinary centre offering a variety of clinical services. We are primarily a dental practice, with a dental hygiene suite, a facial aesthetics suite and with a medical doctor's office on site. This places us uniquely and acutely at the forefront of the latest training,
and product information when it comes to facial aesthetics. Our practitioners are either doctors or hygienists who have undertaken extensive training, enabling them to deliver the very best results.
All our practitioners are registered with the General Dental Council or General Medical Council and have many years of experience in working expertly with a wide variety of treatments.
How do I choose a clinic and a clinician for my treatment?
We believe creating a friendly, informal and happy environment is one of the key elements in making our clients feel at ease here at Thurloe Street Dental. However, the most important part of your decision in selecting the right clinic for you may be your relationship with our team and specifically our facial aesthetics practitioners. Our practitioners, Dr Haider Raza and Allysun Ramsdale have nearly 20 years combined experience in facial aesthetics. They have used a wide variety of products over the years, achieving remarkable results with hundreds of clients.
What is the first step?
The first step is to accept our invitation to a complimentary consultation with one of our advanced medical aesthetics practitioner. This will take around 30 minutes, you'll be under no obligation and discretion is assured. Our clinician will meet with you and over a cup of tea or coffee; they will chat with you and discuss your goals. They will offer their expertise and advice on how to best achieve these goals; and you will have an opportunity to ask any questions you may have.
A personal treatment plan will then be generated for you, detailing the treatments, duration of treatment and fees involved. Our fees are guaranteed for three months from the date of the treatment plan.
Is the treatment painful?
Just prior to all procedures we apply a very effective topical anaesthetic cream. This is left on for 15-20 minutes and will numb the area due to be treated (applies to all procedures).
All our dermal fillers products also contain Lidocaine (a medication used to numb tissue in a specific area (local anaesthetic) to make the procedure even more comfortable. For some areas, such as the cheeks and the under eye, a gentle local anaesthetic injection may also be used to further enhance your comfort.
As dental professionals, we can also offer a dental block injection for treatments to the lips and nose to mouth lines if you are particularly nervous or sensitive. Our clinician Allysun Ramsdale's background in dental hygiene, and her extensive aesthetics experience, ensures the most gentle, comfortable levels of treatment possible. Some of her clients who have previously had a painful experience elsewhere have been amazed at how painless her treatments can be.
Will I be sore, swollen or bruised afterwards?
You might find a little bruising and/or swelling for a few days after your treatment.
This is a normal response from your body as a result of having treatment with an injection.  However, this response can vary from client to client and treatment to treatment; one day you may respond differently than previously to the same treatment and most treatments heal very quickly.
You will be given both pre and post treatment advice on how to prepare before having your treatment and how to any side effects such as swelling and bruising, thus ensuring your treatment settles for the best long-lasting results. You will soon learn that scheduling appointments around social events, flights and work commitments is key. Our clinician will advise how best to work this into your busy schedule. Clients usually return to work and most normal activities immediately after treatment. Make up can be applied 4 hours after treatment.
For full advice please see our pre and post treatment advice section.
Subtle Results
Our clinicians are experienced in offering a natural fresher look designed to enhance your features but not alter them to a point where you no longer resemble yourself. We have all seen examples of celebrities with a frozen, expressionless look or with unnatural over filled lips; this can be very concerning for a new client considering their first treatment. This can all be avoided when you are treated by experienced medical professionals who fully understand facial anatomy and how your perfect look needs to be created with gentle, balanced treatments.
Our clinicians have received training from many industry leaders and worked alongside a wide range of facial aesthetic companies. This has enabled our clinicians to gain an extensive wealth of knowledge surrounding the product ranges available. They have many years of experience in learning how to manage a patient's expectations, using advanced techniques, they convey the possibilities of what can and cannot be achieved with each product.
How long will my treatment appointment take?
Typically, a dermal filler treatment appointment will last around sixty minutes. This will allow ample time for you to ask any questions you may still have prior to starting your treatment. Our clinician will gently numb the area/s to be treated and once numb they will start your treatment. An anti-wrinkle treatment appointment is typically 30-60 minutes (dependent upon how many areas you wish to treat). Again, allowing plenty of time for any questions, for numbing etc. In both appointments, there is also time for pre and post treatment photographs for our records.
How long will the effects of my treatment last?
Dermal Fillers
Results are usually immediate for dermal filler treatments; however, they can take up to 2 weeks to fully integrate and settle. The visible effect of dermal filler treatment can last between 3 months to 2 years generally, depending on the filler used and the treated area.
The result wears off gradually as fillers are broken down naturally by the body. This will usually happen evenly and without being noticed, with a return to your original appearance.
Anti-Wrinkle Injections
You will notice an improvement in lines and the skin will appear smoother over the next five to ten days, however, the full effect will be visible in 2 weeks, at which point our clinician may wish to see you for a treatment review, especially if you are a new client. At the review our clinician assesses whether any adjustments are desired. If so, this is at no extra cost to you. The review appointment is a great way for our clinician gauge your satisfaction and to achieve the most favourable results for you.
With anti wrinkle treatments in South Kensington, you can expect the results to gradually wear off over three to six months, and there is a gentle transition between minimal movements of the muscles to complete function. Anti-wrinkle treatments have no permanent effects.
If you are new to facial aesthetics treatments and would like to experience very natural effects with reduced longevity for your peace of mind, our clinicians are very experienced at offering light treatments for both anti-wrinkle treatments and dermal filler treatments – you can discuss this at your professional consultation.
Will people be able to tell I've had treatments done?
This is up to you. We like our clients to look naturally youthful and beautiful and achieve the results that please them. With the light and subtle treatments our clinicians are experienced in, even close friends may not be able to tell you've had any treatment. They may say you look well or fresher but not be able to quite work out why, so it can be your little secret should you want to keep it that way.
After having lip treatments, lips can be a little swollen for a couple of days, so we advise clients not to make any plans, if they do not want friends and family to know. Natural looking anti-wrinkle treatments and dermal filler treatments are becoming widely acceptable and we find, most of our clients recommend their family and friends to our clinic after having treatment. We take patient confidentiality very seriously, so you can rest at ease.
What will happen if I stop having treatments?
If you decide to stop having treatments, the results will wear off gradually and you will return to your normal appearance without any lasting effects or visible changes. There is no harm in having a filler or anti-wrinkle treatment just once for a special occasion to give yourself a lovely fresh glow, however, optimum results will be achieved by repeating treatments on a regular cycle or timescale as advised by our clinicians.
How safe is treatment? Are there any side effects?
As a medical professional, we consider all safety factors when providing treatments and believe that these treatments are very safe when administered by highly qualified insured professionals, trained and experienced to the highest standards such as ourselves.
Botulinum toxin injections have been used medically for other problems for many years such as excessive sweating and helping stroke patients recover. Dermal fillers have now been used safely in the industry for many years. We only use FDA approved products.
The risk of complications is low when used correctly by experienced practitioners and if a complication occurred, we are fully able to address and treat this as we have an extensive support network for our clients. Risk of allergy to fillers and anti wrinkle injections is very low. We will discuss in person at your consultation, any risks based on your medical history. We discuss any possible side effects to treatment and provide full post-operative care including the clinician's personal number for your complete peace of mind.
It can be a worrying and confusing process for clients when choosing a practitioner as there has recently been negative publicity in the media highlighting problems such as "botched lip fillers". These are, worryingly, down to inexperienced, unqualified practitioners and also a rise in the number of beauticians providing filler treatments. The facial aesthetics industry, at present, is still unfortunately largely unregulated. However, the medical industry hopes that this will improve with the new JCCP register raising public awareness of why only medical professionals should be providing facial aesthetics treatment – if you choose to see a non-medically qualified practitioner your safety may be at risk.
Why should I choose Thurloe Street Dental for my facial aesthetics treatments?
If you are already a dental or facial aesthetics client at our clinic you will already have experienced our caring, gentle and friendly approach. Our clinicians are all dentally trained and registered with the GDC and have nearly 20 years combined experience in facial aesthetics. They have used a wide variety of products over the years, achieving remarkable results with hundreds of clients.
We have already helped countless patients achieve a fresher more youthful appearance and most of our clients now come to use though personal recommendation.
Our knowledge of facial anatomy helps us to provide the safest levels of treatment for our clients and our sterile CQC registered environment is also a factor to consider when choosing a suitable practitioner.
We can also provide you with local anaesthetic for more sensitive areas, which only a dental professional can do for facial aesthetics treatments. We also pride ourselves on our gentle treatment techniques, being used to dealing with nervous clients on a daily basis in the dental world.
We provide a truly extensive range of facial aesthetics treatments to be able to fully treat any concerns you may have. We are constantly adding the latest techniques and treatments to our wide choice of treatments, including non-surgical rhinoplasty, tear trough fillers and PRP therapy.
We offer free, friendly consultations with the clinician and are conveniently located in the heart of South Kensington, very close to the tube station.  Late appointments are available, and we open on Saturdays by prior arrangement for your convenience.
Why not book a free consultation, just chat over a coffee and explore how our team can really help you achieve your desired look and answer any questions you may have!
Please click here or call 020 7584 5551 to book your appointment now.