Looking for Wow Fusion treatment in London? We are excited to offer Wow Fusion at our clinic in South Kensington, London. Wow Fusion is gaining popularity worldwide because of the fantastic results that thousands of people are enjoying. WOW Fusion offers a combination of botox, microneedling and mesotherapy. It is an innovative needling device that allows our skincare practitioners to create customised skincare cocktails in a glass vial that is tailored your skincare needs.
Our clinicians, are experts in administering Wow Fusion treatment. Our price for Wow Fusion in our London clinic starts from £195. Additionally, we offer free consultation for your peace of mind. We are a multidisciplinary medical and dental clinic conveniently located near South Kensington tube station. Apart from Wow Fusion, we also offer a variety of non surgical cosmetic treatments including dermal fillers, muscle relaxants, Profhilo, PRP and Zo Skin care and treatments.

What is microneedling?
Microneedling is proven to help boost the skin's overall texture while stimulating the production of collagen. The microneedling process involves penetrating the skin with tiny needles in a specific area so that the ingredients  absorb into the epidermal/dermal junction and improve texture, hydration levels and strengthen the dermis through mild collagen stimulation. When administering Wow Fusion treatment at our clinic in London, we use a combination of microneedling, mesotherapy and Botox.
What is mesotherapy?
Mesotherapy is a process that involves administering very small injections into the surface of the skin. The injections contain a combination of vitamins, anti oxidants, minerals, and other nutrients that are naturally found in the skin.  Depending on your skin care needs the personalised skincare cocktail may include, for example, Hyaluronic Acid for plumping and hydrating the skin, Vitamin C for brightening the skin and Rutin to help calm any sensitivity or redness. There are many types of Mesotherapy that can be tailored and administered depending on skin type and especially for your skin concerns.
Why do we recommend adding Botox to Wow Fusion?
Our clinicians recommend adding small amounts of Botox to penetrate into the superficial layers of skin during Wow Fusion treatment. Botox relaxes the muscles that surround pores and sebaceous glands in the skin. As a result, it prevents pores from opening or contracting which means they can't push out oil or sweat. Additionally Botox gives the skin a smoother appearance. If you prefer, our clinicians can also administer Wow Fusion without adding Botox. 
Read patients' reviews for Wow Fusion and other facial aesthetic treatments for our clinic in South Kensington, London:
What are the benefits of microneedling and mesotherapy?
Both microneedling and mesotherapy treatments are very effective at treating a wide range of skincare concerns. These include, but are not limited to:
Ageing and loss of elasticity.
Fine lines and wrinkles.
Enlarged pores.
Excessively oily skin.
Sun damage.
Rosacea.
Hyperpigmentation.
Dehydrated skin.
Dull and tired looking skin.
The tiny little "injuries" created with microneedling encourage the production of collagen. Collagen production keeps the skin looking smoother and tighter  even as we age as a result of the increased production. Therefore, Wow Fusion treatment doesn't just give short term results, it promotes stronger and healthier skin in the long term.
Wow Fusion has received a lot of coverage in media  due to its innovative nature and popularity with celebrities. Click underneath to read more: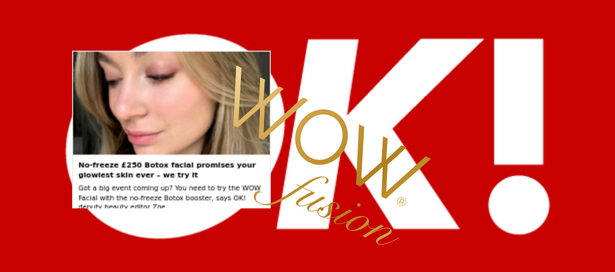 How many sessions of Wow Fusion do you need?
Wow Fusion can be used as a one off treatment. However, for best results, we highly recommend a course of 4 treatments each 2 weeks apart. Our clinicians recommend adding Botox to the first treatment only.
Which parts of the body can Wow Fusion be used on?
Wow Fusion can be used all over the face, neck, décolletage, hands and scalp. At our clinic in South Kensington, London, we offer Wow Fusion for the face and many additional areas.
How long does it take for Wow Fusion to work?
Results are noticeable within 1 week and carry on improving over time.
Is Wow Fusion painful?
Wow fusion treatment takes between 30 to 40 minutes. The treatment uses an innovative device with very fine needles. As a result it is does not cause pain. Additionally, we can apply a fast acting numbing cream called LMX to make the treatment even more tolerable.
Does Wow Fusion Treatment have any side effects?
After treatment, you may see some redness and possible swelling in the area due to the tiny little injections created by the microneedling process. However, this is normal and should subside within a couple of days. Very occasionally, the treatment can leave  small bruises but this is rare and if it happens, the bruising goes away quickly. There is no down time, and you can have the treatment in your lunch hour (we do not recommend applying make up for 4 hours after treatment). 
What is the price of Wow Fusion at our clinic in London?
We offer free consultations for Wow Fusion at our clinic based in South Kensington, London.  Alternatively, we can arrange a virtual consultation, depending on your preference. The price of Wow Fusion starts at £195 in our London clinic.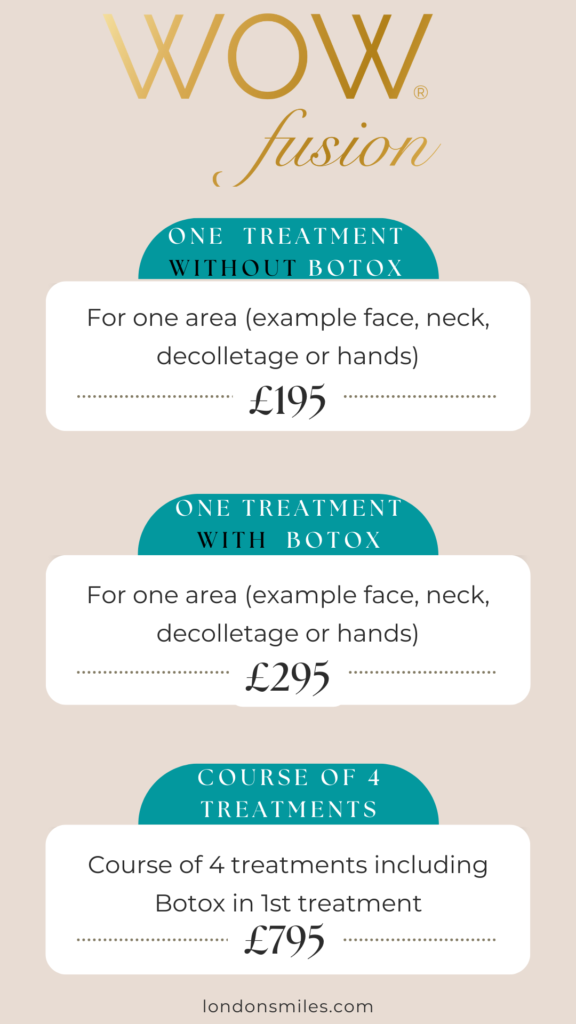 If you would like to discuss anything about the price of Wow Fusion, at our clinic in South Kensington, London speak to one of our friendly team members on 020 7584 5551.
Want to read more about Wow Fusion? Click here.
To view our Facial Aesthetics pricelist please click here.
Our patients come to us from all over London and the UK for Wow Fusion  treatment. However, we are closest to South Kensington, Chelsea, Fulham, Knightsbridge, Mayfair and Battersea.