Implant Dentist in South Kensington, London
Implants are a permanent replacement for missing teeth. They are natural in appearance and feel and will restore your smile to its natural beauty.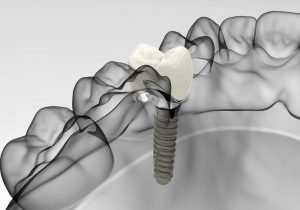 At Thurloe Street Dental and Implant Centre we have used dental implants to replenish lost teeth with great success. We are advanced practitioners of this dental technique and can replace single or multiple lost teeth in one sitting.
A dental implant is a titanium screw which is embedded into the jaw bone to act as a new 'root' for a replacement tooth or crown. The crown fills the gap and replenishes your smile.
Titanium is used for the implant as it is proven to bond well with the jaw bone by a process known as Osseointegration. Over time, it becomes fully incorporated into the mouth's system.
Dental implants are the preferred options for replacing missing teeth, as they are fixed in place, can be looked after in the same way as natural teeth and are built to last.
Please click here or call 020 7584 5551 to book your consultation with our implant dentist now.