Invisalign is a unique straightening system that tackles mild to complex cosmetic and bite issues. It is widely used and has achieved excellent results in adult patients of London.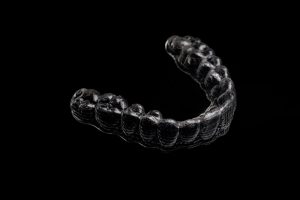 An Invisalign aligner is similar to a mouth guard; however it is completely transparent and comfortable to wear.
The aligner is worn for 22 hours a day and is removed for eating and cleaning.

Every two weeks, you will attend Thurloe Street Dental and Implant Centre so we can provide you with the next set of aligners – each one will take into account the movement of your teeth and be adjusted accordingly.
The aligners have been designed for comfort, so you won't have to worry about friction impacting on your gums or inside the mouth.
Once you have completed the main treatment, we will provide you with a retainer so that you can maintain the new position of your teeth.
Please click here or call 020 7584 5551 to book your appointment now.